2022 Pumpkin Carving Contest at KBRH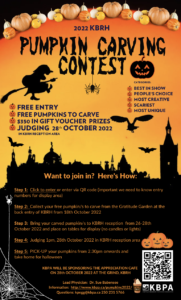 Lead Physician:  Dr. Sue Babensee
Pumpkin Carving Contest at KBRH 26-28th October 2022
The 2022 Pumpkin Carving Contest is on again at KBRH.  $350 worth of gift vouchers are up for grabs.  Show us your skills!  Departments and individuals are invited to submit their creations here (we need to know how many to expect).
Come and collect your free pumpkins to carve.  They will be out in the Gratitude Garden from the 18th October 2022.
Bring your carved pumpkin/s to KBRH reception and put them on the tables provided during 26th-28th October to display.   Judging will be at 1pm on the 28th October 2022.
ENTER the Pumpkin Carving Contest here

FREE pumpkins are now available in the Gratitude Garden for you to carve – we will refill as needed.
Categories:   $350 in prizes (gift cards)
Best in Show $100

People's Choice $100
Most Creative $50

Scariest  $50


Most Unique  $50
The KBPA will be sponsoring the Appreciation Cafe at the Grind, KBRH on Friday 28th October, 2022.  Why don't you try the special "Pumpkin Spice Latte" or enjoy your favourite Grind drink?  We (KBPA) sincerely thank you for everything you do.
IMPORTANT:  Please pick up your pumpkins after judging 28th October from 2.30pm onwards and take them home for your Halloween party or give them to your neighbour!
Last year we had great engagement – 14 entries and we received some wonderful feedback.  "It was a wonderful event to engage and improve staff morale." says one exhibitor.
Social Media:  Post any pumpkin ideas with the hashtag #kbrhpumpkins2022 and tag us @kbdoctors.ca
Questions:  kpegg@kbpa.ca or 250 231 5766
Tip: Want Your Jack-o'-lantern to Last Longer? Stop Cutting a Hole in the Top!
2021 KBRH Pumpkin Carving Winners

Best In Show:   History of Horror – Dietary Dept.
Most Creative:  Bowell Protocol Ben –  Poplar Ridge.
Scariest Pumpkin:  Scary Pumpkin –  Support Services.
Most Unique:  Pumpkin Spiced Diarrhea – Aspen Maternity