#KBRHSmiles Face Button Project
The #KBRHSmiles Face Button Project allows patients to see the smiling faces behind the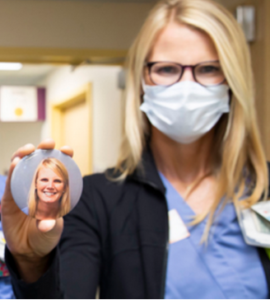 masks of all staff; physicians, nurses, and admin – everybody who works at KBRH.
Dr. Sue Babensee put forward the Face Button idea at a KBPA Working Group Meeting and the board approved.  
The goal of the KBPA Button Project is to support patient-centered care by eliminating or reducing a level of fear and anxiety for patients who find comfort in seeing the smiling faces of their providers and health care team members.  With the new safety policies around COVID-19, such as mask-wearing, this is a strategy to help accomplish the best possible experience for the patients during their health care visits.

Physician Lead:  Dr. Susan Babensee
Project Coordinator:  Kimberley Pegg
Inquiries:  kpegg(at)kbpa.ca